Description
Highlight
Complete and balanced pet food for senior dogs.
The inclusion of fresh meat of turkey guarantees the high biological value of the recipe.
With vegetables as ideal carbohydrate source that provides daily energy and also a source of dietary fibers for intestinal wellness.
Composition: Meat and derivatives (fresh meat; chicken 26% and pork liver 5%), vegetables (carrots, peas and potatoes 6%), cereals, oils and fats, mineral substances, powdered milk protein.
Guaranteed Analysis :Crude Protein: 7.0%, Crude fibre: 0.5%, Crude fats: 6.0%, Crude ash: 3.0%, Moisture: 79%.
Nutritional Additives/kg: Vitamin D3 450 IU/kg, Vitamin E (all-rac-alpha-tocopherol-acetate) 15 mg/kg, Selenium (Sodium selenite 0.04 mg/kg) 0.018 mg/kg, Manganese (Manganous sulphate monohydrate 9 mg/kg) 2.9 mg/kg, Zinc (Zinc oxide 32 mg/kg): 25.7 mg/kg, Copper (Copper (II) sulphate pentahydrate 3.5 mg/kg) 0.89 mg/kg, Iron (Ferrous sulphate monohydrate 15 mg/kg) 4.93 mg/ kg, Iodine (Calcium iodate anhydrous 1.8 mg/kg) 1.17 mg/kg.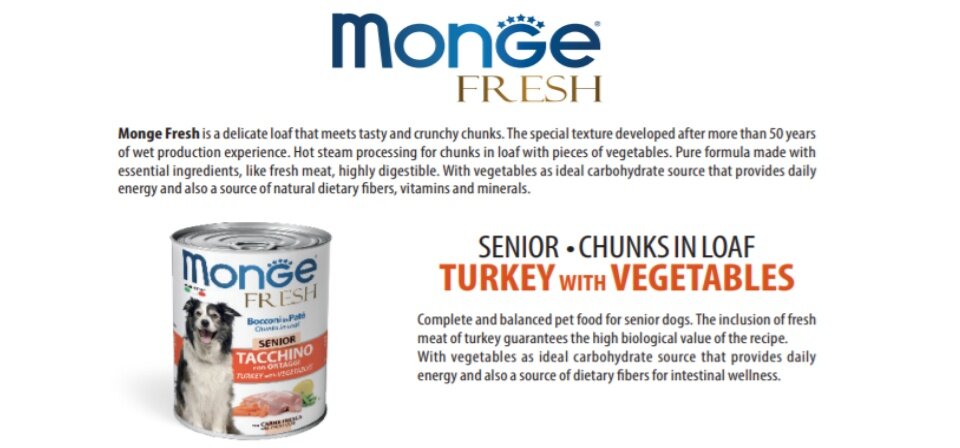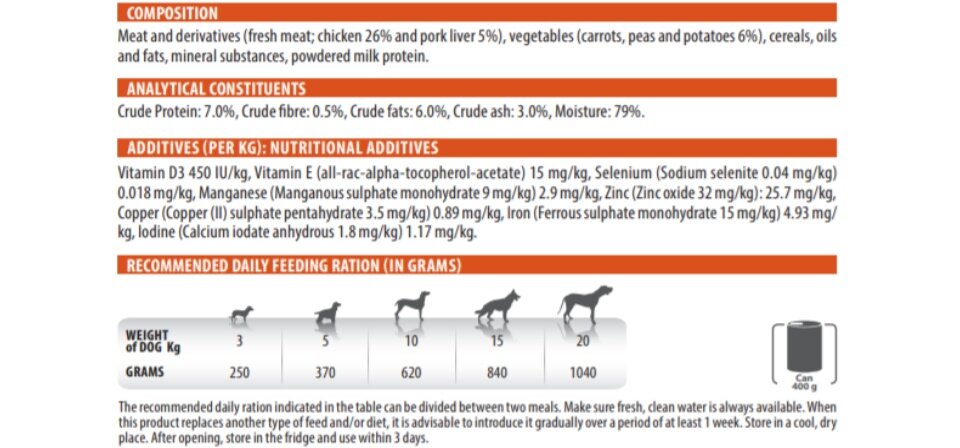 What's in the box
3 x MONGE Fresh Turkey with Vegetables (Senior) 400 gm